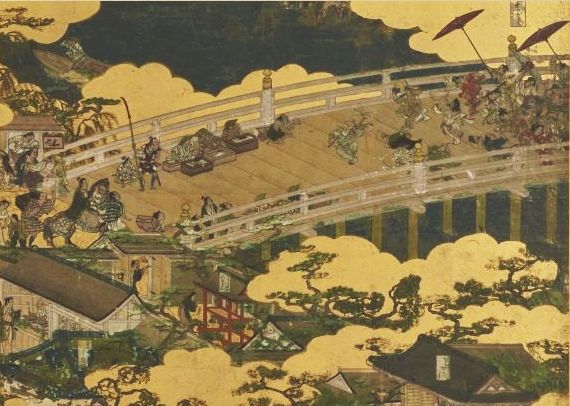 Reproduction
| | |
| --- | --- |
| Title | The area in and around the Kyoto city (Funaki-version) |
| Quantity | A pair of six-fold screens |
| Date | 2018 |
| Production | Canon Inc. |
Original Work
| | |
| --- | --- |
| Designation | National treasure |
| Artist/Excavation Site | By Iwasa Matabei |
| Collection | Tokyo National Museum |
| Date | Edo period, 17th century |
| Collection Ref. No. | A-11168 |
Overview
This is one of the rakuchū rakugai-zu, paintings of the area in and around Kyoto city and often called the Funaki-book/version, because it was originally handed down to the Funaki family in the Shiga area. There is a pattern in the earlier versions of rakuchū rakugai-zu, including the Machida and Uesugi versions—the pattern that sees Kamigyo (upper Kyoto, the northern half of the city) from the east, and Shimogyo (lower Kyoto, the southern half of it) from the west, respectively, painted on two separate panels. Different from this pattern, this piece pictures one scene from one viewpoint and presents it on both the right and left panels continuously.
On the right end is the majestic appearance of Houkou-ji Daibutsu-den (the building storing a large Buddha statue at Houkō Temple), which is the symbol of the Toyotomi clan. The Tokugawa clan's Nijō castle is on the left end in contrast to Daibutsu-den, and in between them stretches the city area of Rakuchū and Rakutō (the eastern part of the capital). The Kamo River flows diagonally across the right panel to the left naturally connecting the pictures on the two panels. As the focus of the painting zooms onto smaller objects, such as the buildings and the people, everyday scenes of the people in difference places are vividly illustrated.
In the upper part of the right panel, we can see Toyokuni-byou (mausoleum enshrining Toyotomi Hideyoshi) surrounded by cherry trees in full bloom and other major temples, including Kiyomizu-dera and Gion-ji. On Shijou Gawara, the riverside area of the Kamo River, Kabuki and ayatsuri joururi (a style of storytelling with shamisen, using puppets) are on display. The liveliness of the entertainment district is depicted quite clearly. In the left panel, the portable shrine of the Gion Festival and dancing people proceed along the streets. Some Westerners are also there. In the lower left, in the red light district of Misuji-machi, prostitutes and customers flirt openly along the streets. The activities of people from all social classes in the different areas of the city are vividly presented, as many as two thousand five hundred in number. The time of production is thought to be around Genna 1 (1615), according to the motifs and details of the picture.