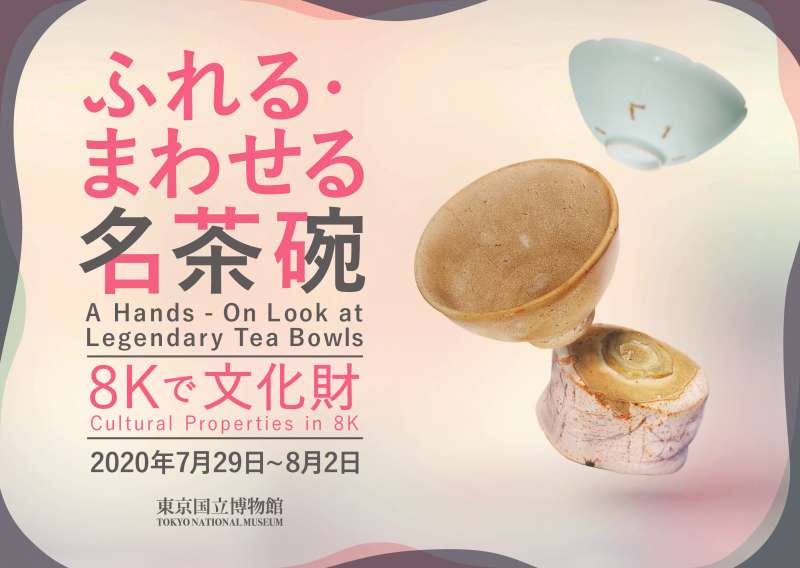 | | |
| --- | --- |
| Period | July 29, 2020 (Wed) - August 2, 2020 (Sun) |
| Place | Lounge, Asian Gallery 1F |
| Time | 30-minute slots between 10:00 a.m.–4:00 p.m. |
| Admission | Free |
| Organizers | TOKYO NATIONAL MUSEUM, NATIONAL CENTER FOR THE PROMOTION OF CULTURAL PROPERTIES, SHARP CORPORATION |
| Reservations | Daily time slots can be reserved in advance (by filling in an online reservation form), with reservations accepted on a first-come first-served basis. See How to Make a Reservation for details. |
| Target participants | All ages from elementary school upward; participants must be able to fill in an online questionnaire after the workshop. |
| Deadline | Reservations must be made two days in advance |
---
Tokyo National Museum, the National Center for the Promotion of Cultural Properties, and Sharp Corporation have developed content* that utilizes 8K technology to experience cultural properties in new ways. Pilot versions of this content will be tested at trial workshops held at Tokyo National Museum's Asian Gallery. Advance reservations must be made online. Participants will also be asked to fill in a questionnaire about the workshops.
*The content is based on the 'Sharp 8K Interactive Museum.'
Display Highlights
Prized possessions of ancient warlords
Tokyo National Museum's Tea Bowl, Ōido Type, Known as 'Uraku Ido' was once owned by a famous tea master. How would it feel to actually hold this bowl in your own hands?
High-definition 3D imaging is used to bring the bowl up close
8K 3D images are shown on a large 10-inch monitor. The images display three tea bowls from Tokyo National Museum's Collection: Tea Bowl, Ōido Type, Known as 'Uraku Ido', Celadon Tea Bowl, Known as 'Bakōhan', and Tea Bowl, Shino Type, Known as 'Furisode'. Participants can experience two programs: Viewing 'Uraku Ido' Up Close and Comparing Three Tea Bowls.
A new controller enables intuitive handling
We have developed a hands-on controller that looks and weighs the same as the real tea bowl.* Participants can use the controller to move the images on the 8K monitor in any direction, as if handling and appreciating the actual tea bowl.
* The Tea Bowl, Ōido Type, Known as 'Uraku Ido'
Simple explanations that everyone can understand!
Noteworthy points will be displayed when the controller is navigated to a highlight marker. Through seeing and touching, participants can engage more deeply with the objects.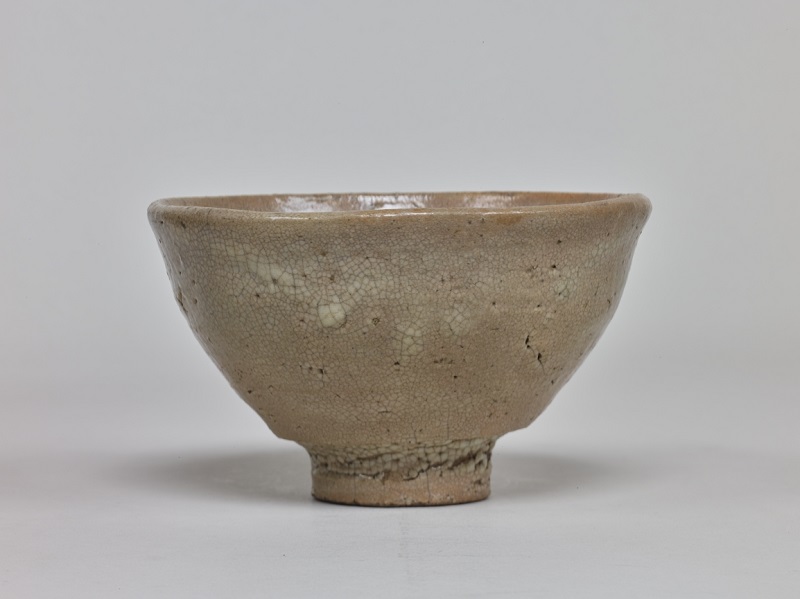 Distinctive Features
Uraku Ido
Korea
Joseon dynasty, 16th century
This bowl is characterized by its gentle red-tinged peach color. The bowl was owned by Urakusai and several other famed tea masters.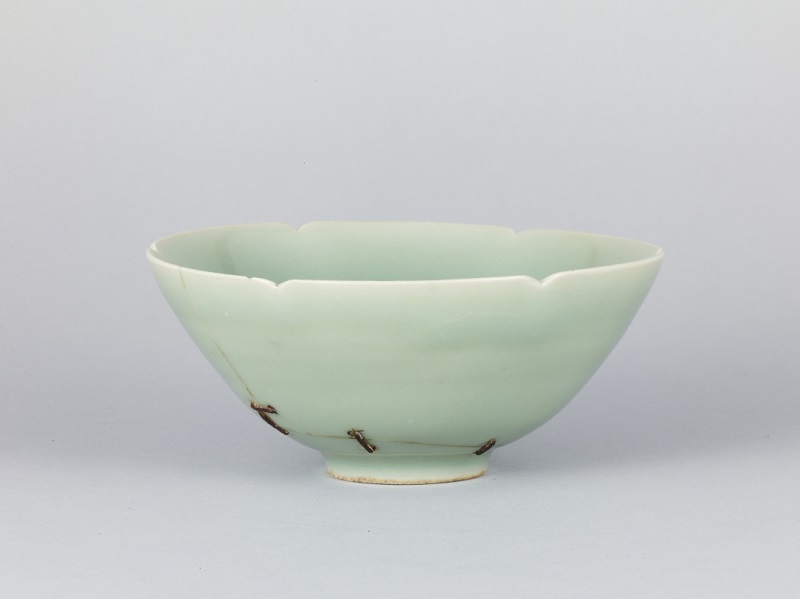 Distinctive Features
Bakōhan
Longquan ware, China
Southern Song dynasty, 13th century
The highlight here is the beautiful, translucent blue glaze. It is said the bowl was owned by Ashikaga Yoshimasa, a shōgun during the Muromachi period.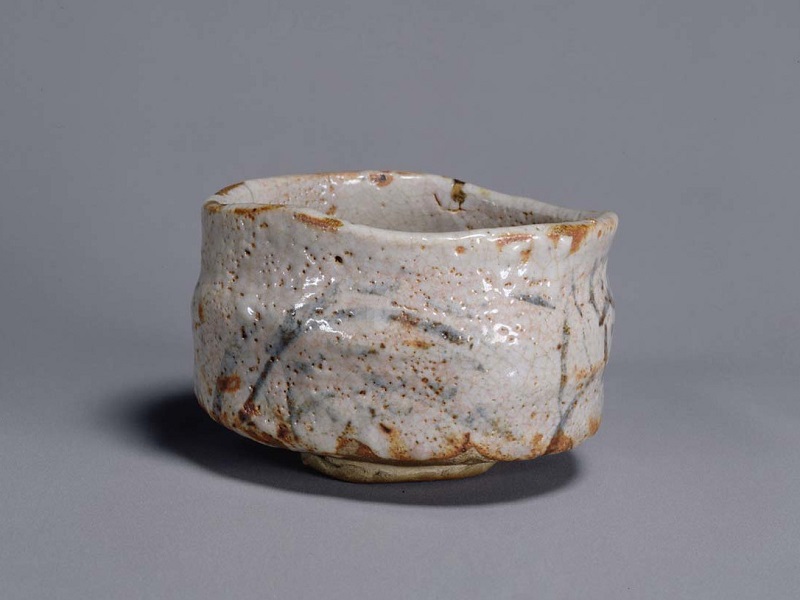 Distinctive Featuresv
Furisode
Mino ware, Japan
Azuchi-Momoyama–Edo Period, 16th–17th century
The charm of Shino ware is on full display in the way the design of a grassy field peaks through the white surface.
A word from our curator                
(Mikasa Keiko, Curator at Tokyo National Museum)
When we hold a bowl, we can feel the roughness or smoothness of its surface. Our hearts our moved by how large, small, heavy, or light it feels in our hands. Japan imported ceramics from China, Korea and elsewhere, while pottery also developed in regions across Japan. These objects were imbued with different colors to match the changing seasons and the places they were used. This 8K content will introduce you to Japan's rich ceramic culture by presenting the objects just as they would have seemed long ago.
How to Make a Reservation
Time slots for these workshops can be reserved online on a first-come first-served basis. After reading through the following terms and conditions, please make a reservation by filling in the online reservation form.
These workshops are open to:
・All ages from elementary school upward
・People who are able to fill in an online questionnaire after the experience.
・Please be aware that your experience may be filmed or otherwise recorded.
Booking in advance
・The time and date must be reserved in advance. 30-minute time slots are available from 10:00 a.m. to 4:00 p.m. Participants are not required to arrive early or stay late.
・Up to two participants can be booked for a single reservation.
・Reservations can only be made via the online reservation form. We do not accept telephone reservations, etc.
・A confirmation email will be sent after you make a reservation. Please check your inbox settings before making a reservation (please ensure your inbox is set up to receive mails from the domain '@reserva.be'). If you have not received a confirmation email within three days of making a reservation, please send an email to cpcp@nich.go.jp.
・Cancellations or changes cannot be made after the reservation is confirmed.
・Online reservations must be made at least two days in advance.
・Use of personal information will be limited to the purposes of the trial workshop.
Visiting the museum
・Museum entry is free for participants in the trial workshop.* Please show your confirmation email on your phone screen or as a print-out when entering Tokyo National Museum (otherwise you will be required to pay an entry fee).
・A reservation for the trial workshop will suffice for entry into Tokyo National Museum. Participants will not be required to make an online reservation to Tokyo National Museum's regular exhibitions.*
・Tokyo National Museum is taking measures to prevent the spread of Covid-19, including taking the temperature of all visitors. As such, entry may take more time than usual, so please arrive early.
*However, please be aware that a separate online reservation will be needed for the special exhibition KIMONO: Fashioning Identities.
Reception at the venue
・On the day of the workshop, please enter the museum by the Main Gate and arrive at 1F Lounge in the Asian Gallery by the reserved time. Please show your reservation confirmation email to the person at the reception.
・Please be aware that you will not be able to take part if you arrive late for your allotted time slot.
Updated visitor rules:
・Do not enter the Museum if you a fever, cough, or other symptoms of illness.
・ All visitors and staff are subject to a temperature screening upon arrival. Anyone with a temperature of 37.5˚C (99.5˚F) or higher will not be allowed in the Museum.
・ Wear a mask.
・ Sanitize your hands with alcohol spray or wash them with soap and water.
・ Keep a distance of 2 meters (6 feet) between yourself and visitors not in your group.
・ Keep conversation to a minimum when inside the exhibition galleries.
・ Do not to touch the exhibition objects, cases, equipment, or walls.
・ Additional entry restrictions may apply to certain exhibition galleries.
Updated museum protocols:
Tokyo National Museum is implementing infectious disease control measures in accordance with our guidelines.
・ Infrared imaging will be used to conduct temperature screenings at the main gate.
・ Alcohol spray will be made available in all exhibition galleries.
・ Staff will sanitize, clean, and ventilate all Museum buildings thoroughly.
・ Everyone involved in Museum operations, including staff and couriers, will be subject to temperature screenings and health checks.
・ To allow for social distancing and ensure proper ventilation, only a limited number of people will be allowed in each exhibition gallery at one time.
・ Staff are required to wear masks. Some staff at information desks, etc. will wear face guards (and latex gloves in some cases) to minimize the spread of respiratory droplets.
Please keep a record of the date and time you visited the Museum. If anyone at the Museum tests positive for the novel coronavirus, the Museum will post this information on its website (https://www.tnm.jp). Please check the website periodically following your visit and contact your local health authorities if you discover a positive case was detected when you were at the Museum.